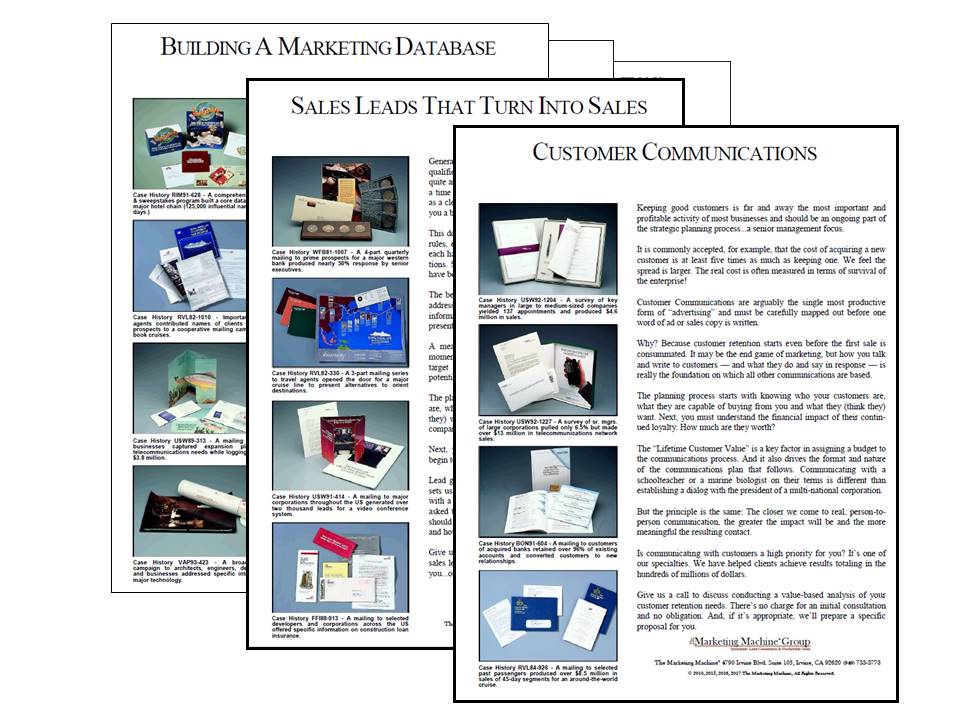 Direct Marketing and Direct Response Advertising cut a wide and impactful swath across the marketing-advertising-sales world. Technically, while the definition includes a number of media, from eMail to Mail Order, the commonality is primarily the "direct" issue . . . direct from seller to buyer, bypassing distribution channels.
Direct Mail gives me more freedom to create.
Direct Response Ads and Inserts still have to conform to a publication's mechanical specifications and are controlled by the publication's circulation.
eMail is still saddled with the electronic distribution channel in a limited range of formats. While email ads almost always offer a lower cost-per-thousand (cost/m) than Direct Mail, you are limited in your control over the audience.
But even though it's called Direct "Mail" we're not limited to envelopes or tubes to package our Direct Mail packages. We have options for delivering the messages (e.g., UPS, Fedex or private delivery services). And we get to design the medium as well.
Yes, Direct Mail cost/m is usually greater, but the cost-per-response is often far less, by an order of magnitude.
You Don't Really Care About the Cost of Your Direct Mail Package . . . Only the Cost per Response!
Yes, the cost/m for Direct Mail is significant and admittedly, it's not the right medium for every product or service. But when the qualifying factors are aligned, Direct Mail emerges as . . .
Direct Mail is my strategic weapon of choice.
Here are five reasons why:
Select Recipients – I can cherry pick a market, mailing only to individual prospects and/or customers who are located in my service area and who are likely to be qualified to make this purchase. You have the same options!
Mix and Match Lists – There are something like 50,000 mailing lists available, each with different characteristics. You can rent in small quantities and test one list against another to determine the winner.
Testing Leads to Predictability – When you systematically test your lists, offers and creative strategies against one another, you can perfect your message and predict future response.
Controlled Timed Release – You have the option of mailing only the quantity needed to produce the number of responses you want or can handle at any one time.
Tailor Responses to Your Sales Process – Not only can you individualize your mailing ensembles (yes, that's a giant leap beyond simply "personalizing"), you can use different calls to action and variable media, depending not only on the responders' technical capabilities but their Buying Process, etc.
There are more reasons I like Direct Mail, lots more . . . but these are the most important to me. When pressed, I'd say . . .
I love direct mail.
Yes, I may be biased because we've had so much experience in so many industries and been blessed with so many award-winning, double-digit responses.
Maybe I love direct mail because of the unusual way I became a Direct Mail Consultant and Creative Director.
It might also be because of some of the truly extraordinary people I've met and been mentored by over the years.
But that's all too important to me to teat lightly. Maybe I'll devote a blog post to that another time. If you can't wait to read about it, and want to hear more — and share your own biases — get in touch right now!