Direct Mail Checklists for B2B Marketers
Thank you for subscribing.
Something went wrong.
. . . for High-Value Products and Services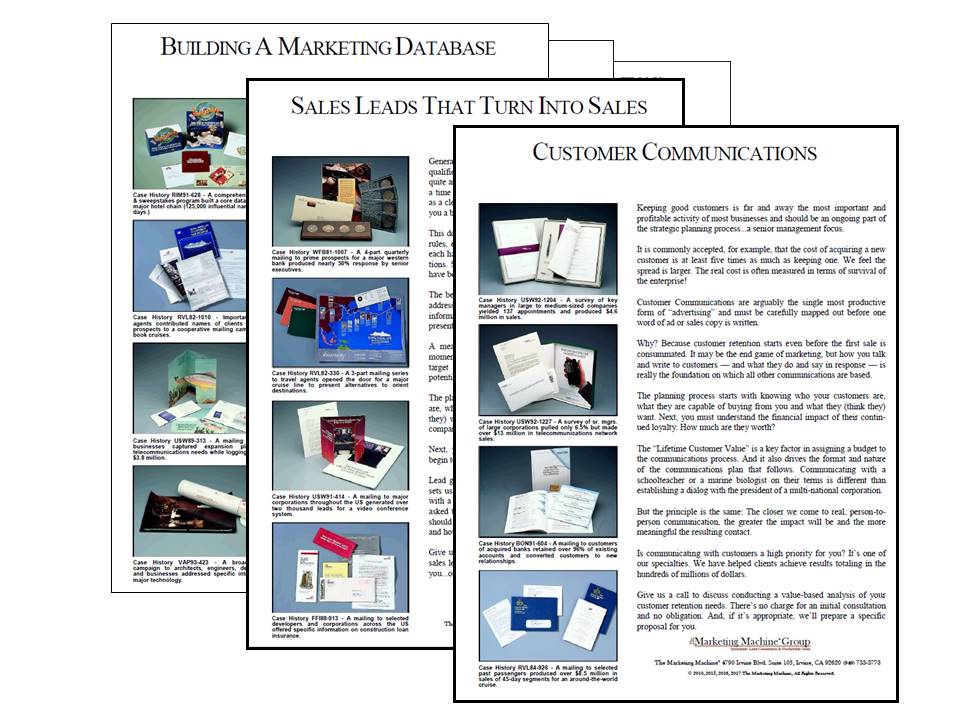 This series of short articles is aimed at a particular segment of the market — products and services that often have big costs associated with them and that deserve the best when it comes to marketing and sales efforts.
Are these articles for you? A "YES" answer to any of the questions below is one way to tell. Or it may be you're simply seeking more information about how to handle this level of marketing.
Question: Have you identified a particular problem with the way sales are going for your big-ticket product?

Question: Are you seeking to improve the results of a sales process you think is pretty solid?

Question: Are you adding a new, high-ticket product or service and want to make sure you've covered all the marketing bases before you launch?
Take a look at these five articles with their mini case histories. You may get a new idea or two, or come away reassured.
High Impact Lead Generation
Managing a large sale in today's corporate world is a major undertaking. Identifying who all the players really are – the decision-makers, the influencers as well as the users . . . Read more
Sales Leads That Turn Into Sales
Generating sales leads is a relatively simple undertaking. Getting qualified leads that have the potential of turning into sales is often another matter, particularly in a major sales situation. . . Read more
Advancing the Sale
There was a time when the salesperson was king, the man or woman for all seasons, the supreme communicator. Those were the days when people bought based largely on personality and . . . Read more
 Building a Marketing Database
Building a Marketing Database (MDTB) is no longer a luxury for most businesses. It's a matter of survival. The question is how to go about it, how sophisticated to make it and how much to . . . Read more
Customer Communications
Keeping good customers is far and away the most important and profitable activity of most businesses and should be an ongoing part of the strategic planning process — a senior management . . . Read more
Do you have a problems that doesn't fit into any of these categories? Give me a call or send a quick email, and let's talk about it!