Virginia Power (now Dominion Virginia Power)
Objective:      
Promote to architects, engineers and design consultants a new energy-saving air conditioning option, suitable for very specific types of commercial buildings.
Campaign: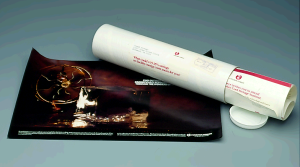 The "Cool Storage" campaign consisted of an integrated direct mail and advertising campaign designed to make these professional audiences aware of and familiar enough with the cool storage technology (also known as thermal storage or ice storage) that they would recommend it to their clients.
Step One of the campaign delivered a high-impact, message-bearing desk ornament with an offer for a follow-up informational booklet and subscription to a series of case histories. Step Two used another high-impact delivery (mailing tube) to invite subscribers to a special workshop where they were able to review selected case histories with the professionals responsible for the projects.
Strategy:  
The problem was to get engineers and architects in the central Virginia market to consider a different way of specifying air conditioning systems. For years, they had overlooked a technology that dates back to the Roman Empire. (Very simply, "cool storage" systems create a super-cooled water/refrigerant mix at night, when energy costs are low, and then distribute it with the help of fans through special ducts to cool the building during the day – without the noise and expense of standard air conditioning.)
We needed to alert our professional audience to the technology without suggesting they were inflexible or unaware.
Therefore, one of the key messages of the campaign: "Share this information with your staff in case they need a refresher . . ."
Results:
Final results are confidential at the request of the client.  However, Step One's Lucite "ice cube" created substantial buzz in this relatively small community. (Years later we saw these desk ornaments still holding pride of place in executives' offices!)
Step Two's workshop drew over 50 professionals for a day-long session.
Virginia Power was under pressure to manage demand. This campaign met their obligation and raised their profile as offering "more commercial energy saving options."