"Silence can be deadly" — US West (now Verizon)
Objective:  
Independent cable companies were selling low-cost access to fiber optic cables and capturing long-distance customers from US West's traditional telephone service. (Losses for US West were reaching into the $millions.)
Campaign: 
"Silence can be deadly" campaign focused on a service that only US West, with its integrated package of services, could offer: comprehensive disaster recovery.
Strategy: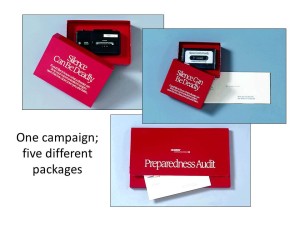 A different message and mailing package were prepared for each audience, and delivery times were carefully staged to leverage the overall impact.
Key to the message was the fact that corporate executives could be held personally liable if they had overlooked planning for disaster. It was this fact that changed the playing field for US West; instead of "selling" at the IT or telecommunications manager level, where price was the main factor, as a result of the campaign they had a referral coming down from the executive office.
The IT managers and sales force got the first message — a "courtesy" copy of what was destined for the executive. The Assistant to the Executive got the second message, stressing the importance of the package about to arrive. The COO got a version of the message that required input from the CEO. And the CEO received the primary "package," warning of that personal liability and providing the path to protection.
Results: 
The original test mailing returned 40% response and a sales conversion rate in excess of 50% (i.e., 1 out of 2), with an average sale worth $400,000+.
Since the eight Sales Engineers had to cover companies in eleven western states, the strong response meant the mailing schedule had to be stretched out. As word of the offer got out, response went up, eventually hitting over 60%. Several months later, following news of a natural disaster in adjacent states, response rose to 90%.