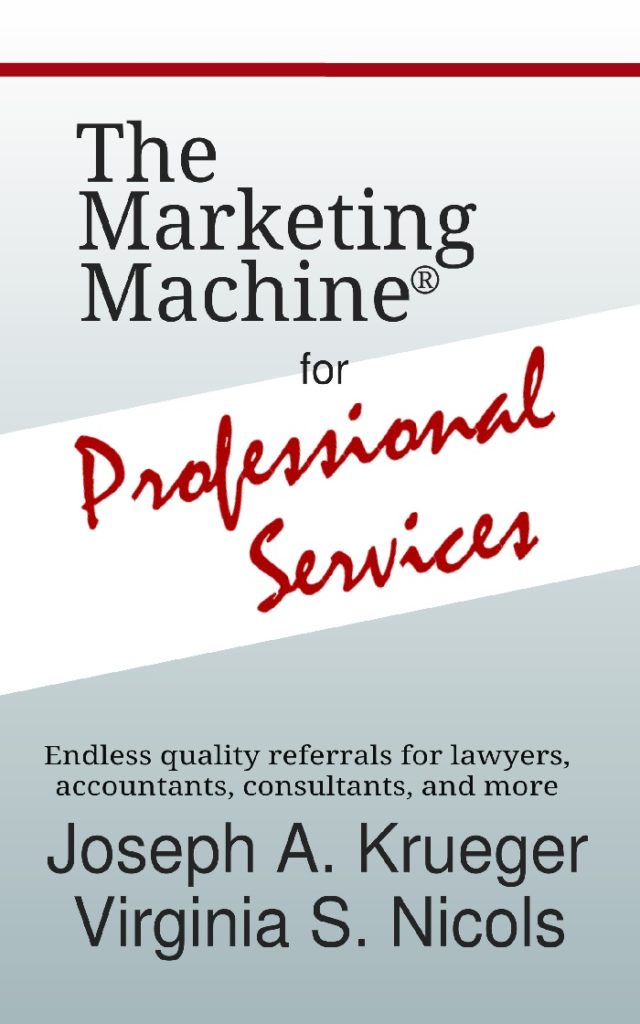 Written for you and your business?
Unless you are flush with client business and record-breaking profits, you need to read this book. Like your business, it's all about referrals and qualified leads that turn into clients. You'll get a new perspective on the business you are really in.
If, however, what you really want is a three inch thick, all-encompassing textbook to look good on your bookshelf, save your money.
The Marketing Machine® for Professional Services takes you into battle!
We're a team of sales and marketing specialists with $billions in professional marketing and sales experience. We cut to the chase in plain and simple language. Our success formula:
Perfect Your Process – A haphazard, "winging it" approach to finding clients and addressing their needs makes prospects skeptical. When you follow a consistent, disciplined playbook it inspires confidence in you and your firm.
Define Your Desired Client Base – Not all clients are alike and neither are their needs . . . or their profitability to you. It's absolutely critical that you identify the characteristics of clients you can serve successfully and profitably. The Marketing Machine® for Professional Services helps you focus your marketing on these prospects and only these.
Know How Many Clients You Want – How many new prospects can you and your firm handle each week and still deliver top notch services?
Get these three things right and you'll build a smooth-running and profitable practice. Get any one of them wrong and you'll face an endless uphill challenge.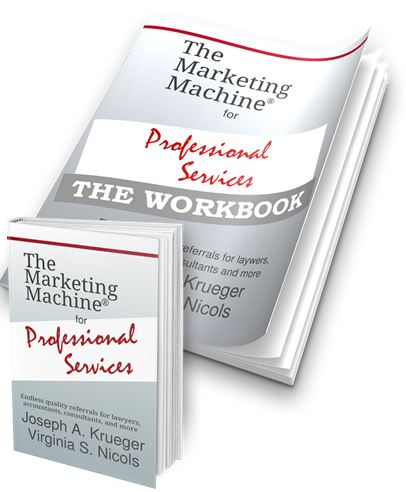 Just posted on Amazon! Get your copy as eBook and/or paperback – and now with full-sized companion WORKBOOK.
Want more detail? Download 8 full pages of preview copy HERE.
---