Lead Generation Program for Wells Fargo & Company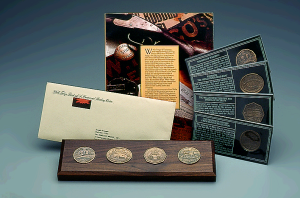 Objective:
Open strategic channels with executives of selected major U.S. corporations that already had established banking relationships with competitors of Wells Fargo. Each new client would be worth thousands of dollars in ongoing yearly fees.
Campaign:
5-part, 12-week campaign offering specialized banking services to specific individual executives.
Strategy: 
Capitalize on Wells Fargo history and mystique with a series mailing campaign. The mailings consisted of a set of four commemorative bronze coins (made specifically for this campaign), delivered one at a time.
The first mailing included a carved wooden base for the coins to come. It was accompanied with historical notes about the coins and Wells Fargo banking information personalized to the executive recipient.
Each subsequent mailing delivered the next coin, along with a personal message.
The next-to-last mailing asked for an appointment so the Wells Fargo Personal Corporate Banking Executive could deliver the 4th coin in person.
Results: 
By the time the last mailing came out, just under 50% of the targeted executives agreed to meet the sales person in order to complete their set of coins.